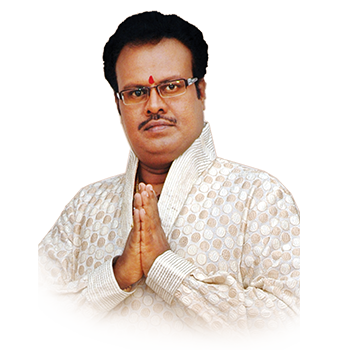 He started his infancy in VYASARPADI living with his parents and Maternal Grandmother. ( Vyasarpadi means place where THE GREAT SAGE OF VEDIC TIMES VYASA MAHIRISHI lived) Even today his ashram is there. They were staying 9 houses away from the temple tank of Lord Raveeswarar. He used to visit the temple daily with his grandmother.
No one in his family for three generations were even aware of Astrology. His was a tiled house, so in summer they used to keep the doors open even at night to have the house filled with breeze after locking the main door. The door no was 5. On either side of the kid, his father used to sleep on left and maternal grandmother on the right. He was and is the pet of his grandmother because she gave birth to four girls and she was longing for a boy, and Mehro was first born to the eldest daughter of his grandmother, and was the first boy in the family after four girls. And became the pet of the whole family.
As he was growing up, in his Fifth year of life one night as everybody were fast asleep, he had Divine Vision of FIVE HEADED COBRA IN FIVE TIERS. At that tender age he didn't know that it was a Divine Sight. In fear he tried waking up his father and his grandmother, shouting all the time that a five headed cobra is in front of all of them but in vain. So in fear Mehro closed his eyes tightly and stareted to count from 1 to 100. Thinking thast it would have vanished in the mean time he slowly opened his eyes only to see the cobra still there. So with increasing fear he stated to count again and was drenched in sweat. Finally he slept off.
Next morning he narrated the Divine Sight to his family elders, no one gave even a fleeting thought to his narration, they all attributed it to his dream. But the child was firm and was telling them the scene persistently. Then his father called a snake charmer to fret out the serpant if it is lurking somewhere. He also tried but in vain. Then they all decided it was only a dream.
After couple of years they moved to another house in the same locality. One day just after dusk at about 7 pm, as he was sitting on his grandmother's lap, HE SAW A HIDEOUS FEARFUL FACE peeping through the window. He immediately alerted his grandmother. She looked in that direction, but was unable to see any face. And that night Mehro had high fever. She thought it must have been due to fear and performed archana in the nearby Raveeswarar temple in the child's name and star the next morning.
After this only his grandmother had a thought that Mehro's birth horoscope has to be written. She approached their family astrologer Shri SAMBASIVAM who was residing at No.98. Govindappa Naicken Street Parrys Madras. She visited him on an auspicious day with the child's birth details and explained to him about child's vision and wanted an answer why it is happening to her grandson. He went to Ekambareswarar temple in Flower Bazar and after praying for three long months he wrote in full detail the life of Mehro till his age of 63 years 5 months and 4 days.
After writing his horoscope in detail he revealed the finer element (sookshmam) in Mehro's horoscope. It is that Mehro in his previous birth was born in lineage of GNANIS (ENLIGHTENED MYSTICS) and attained enlightenment. hence his birth in this life is not an ordinary one, he has taken birth to give enlightment to the seeker.
His life star belongs to KETU who is the GNANAKARAKA and his body star belongs To Sun the ATMAKARAKA. Both these planets Sun and Ketu are in conjunction in FIFTH house in his birth chart where SUN is the LORD of the house in Vargothama power. This house is flanked on either sides by all known Natural Benefics. Hence SUN is the lord of the five headed snake which gave darshan to mehro and he is one with Lord Shiva and he is Adhiseshan on which Lord Sriman Narayanan Rests in the ocean of milk. So what mehro saw was real not dream.
Similarly Ketu who is with Sun in the fifth house gave his darshan as hideous face because ketu's face is hideous. So in this birth based on his birth chart he will in this life from his 27th year till his 63rd year his predictions will be for the welfare and well being of the inhabitants of this planet , that is because his sayings are blessed by Lord Kanda ie Subramania, lord Shiva along with his Consort Parvathi Devi are housed together in his tongue blessed by Sidhi Vinayagar, In shorthe is blessed by whole Shiva Kudumbam, and hence his astrological predictions come true for his seekers and believers thereby they achieve success, all round happiness and prosperity. Thus spoke Sambasivam to his grandmother. In addition to this Sages of yore who were the first ones to speak about astrology, have given glimpses of Mehro's greatness, ie how will a person be if born with certain planetary positions. Sage Sathyacharya, considered to be Father figure of astrology has spoken thus… " Predictions uttered by Mehro will benefit whole of humanity " ( source: Jathaka Sathyachariyam. By Maharishi Satyacharya tamil verson page no: 96) has observed that " All those who have 4th lord exalted in his own star in 2nd house and combined with benefics their predictions will come true to the last world, and they will become a great mystic revered by humanity.
The great sage Agasthiyar has spoken thus " Mehro will bring happiness by removing the sorrows and troubles and turbulations of his bhakthas by his predictions, thereby helping them achieve Raja Yoga. Thereafter Mehro will be an enlightened mystic adored and praised by humanity.. "Source: Agasthiyar Nadi in tamil page no.100 )..
Mehro thus graces at the above address where he has installed Swayambu Moorthy Aadhi Moolavar Sri Subramaniar, along with his consorts Valli Deivanai, Sri Mahaa Mehro, Sri Kedareeswara Gowri Amman,Moolavar GnanaShanmugar, Valli Devasenapathi, Aiswarya Sidhi Vinayagar, Karunai Eswaran, and from where he gives his predictions to those who come to him, Whereby he brings happiness, success in the life of his bakthas. Not everyone can meet Mehro, only those whose Fifth house is stenghtened by various planets will meet him.
It is this Jothida Sathguruji Mehro who having installed the various Gods as per his birth chart and after performing various Poojas according to vedas confers all good things, happiness and prosperity to all those who come to him...
More Details About Jothida Sathguruji Mehro